I'm was so happy to learn that the required ingredient for this month's
Get Your Chef On
challenge, hosted by by Julie at
White Lights on Wednesday
, and Jen from
Four Marrs and One Venus
is
PEARS
!
Earlier this month, I participated in the
Spiked! Recipe Challenge
, where I chose to make
Champagne Poached Pear No Bake Cheesecake
because of the over abundance of
Bosc Pears
I have in my fridge. Well, here I am a little over a week later, and I've barely made a dent in the amount of
pears
I have! I know, I know....this is a good problem to have!
Since I made a dessert for the
Spiked! Recipe Challenge
, I wanted to make a savory dish for this challenge.
Peppered Pear Scones
can be eaten as is, or with the
Pear Conserve
, which elevates the savory scones to the next level! I absolutely love the combination of savory and sweet! Yum!
I know some of you out there are asking yourself, "What's Conserve?" I asked myself this very same question. I knew it had to be a topping of some sort, but wasn't sure of the exact definition. Conserve is
a preserve made from a mixture of fruit or vegetables
. There, now you know!
Preserves usually contain
pectin,
so that the mixture can gel. I ended up using less than the original recipe called for, and all turned out fine. I just had to reduce the mixture down a bit. I also replaced the sugar in the conserve with Splenda!
The source of the original recipe is
here
from Better Homes and Gardens.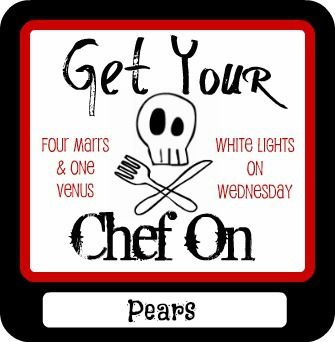 Peppered Pear Scones with Pear Conserve
1 3/4
cups
all-purpose flour
1/3
cup
packed brown sugar
2
teaspoons
baking powder
1/2
teaspoon
whole black peppercorns, cracked
2 eggs
1/4
cup
grated Parmesan cheese
1/2
cup
chopped, peeled fresh pear
Peppercorn whole black peppercorns, cracked (optional)
Preheat oven to 375 degrees. In a large bowl stir together flour, brown sugar, baking powder, pepper, baking soda, and salt.
Using a pastry blender, cut in butter until mixture resembles coarse crumbs. Make a well in the center of the flour mixture.
In a small bowl beat eggs lightly; stir in cheese and milk.
Add the milk mixture all at once to the flour mixture.
Using a fork, stir just until moistened. Fold in pear.
Turn out dough onto a floured surface. Quickly knead dough by folding and gently pressing for 10 to 12 strokes or until nearly smooth.
Pat or lightly roll the dough into an 8-inch square. Cut into 16 squares.
Place scones 1 inch apart on an ungreased baking sheet. If desired, sprinkle with additional cracked pepper.
Bake in the preheated oven for 10 to 12 minutes or until golden. Cool on the baking sheet for 5 minutes. Transfer scones to a wire rack. Serve warm. If desired, serve with Pear Conserve.
This recipe makes 16 servings. If you are following Weight Watchers, each scone is 3 Points Plus. With 1 heaping tablespoon of Pear Conserve, each serving is 4 Points Plus.
2 1/2
cups
chopped, peeled fresh pears
3
tablespoons
lemon juice
1
- 0.4
ounce
package
regular powdered fruit pectin ($1.59 at my grocery store)
1 cup Splenda
1/4
teaspoon
ground cinnamon
In a large saucepan combine pears, water, and lemon juice.
From the tree in my backyard
Bring to a boil; reduce heat. Simmer, covered, for 10 minutes. Stir in pectin. Bring back to boil, stirring constantly. Stir in Splenda and golden raisins. Return to a boil. Boil for about 10 minutes, stirring occasionally. Remove from heat; stir in ground cinnamon. Cool slightly. Store in an airtight container.
these
great parties!